Business Strategy
Business Model
What We Aim to Do
We aim to realize the "popularization of IT," based on our corporate philosophy of contributing to the development of affluent social life around the world through information services. To realize this corporate philosophy, we are working actively with the following in mind: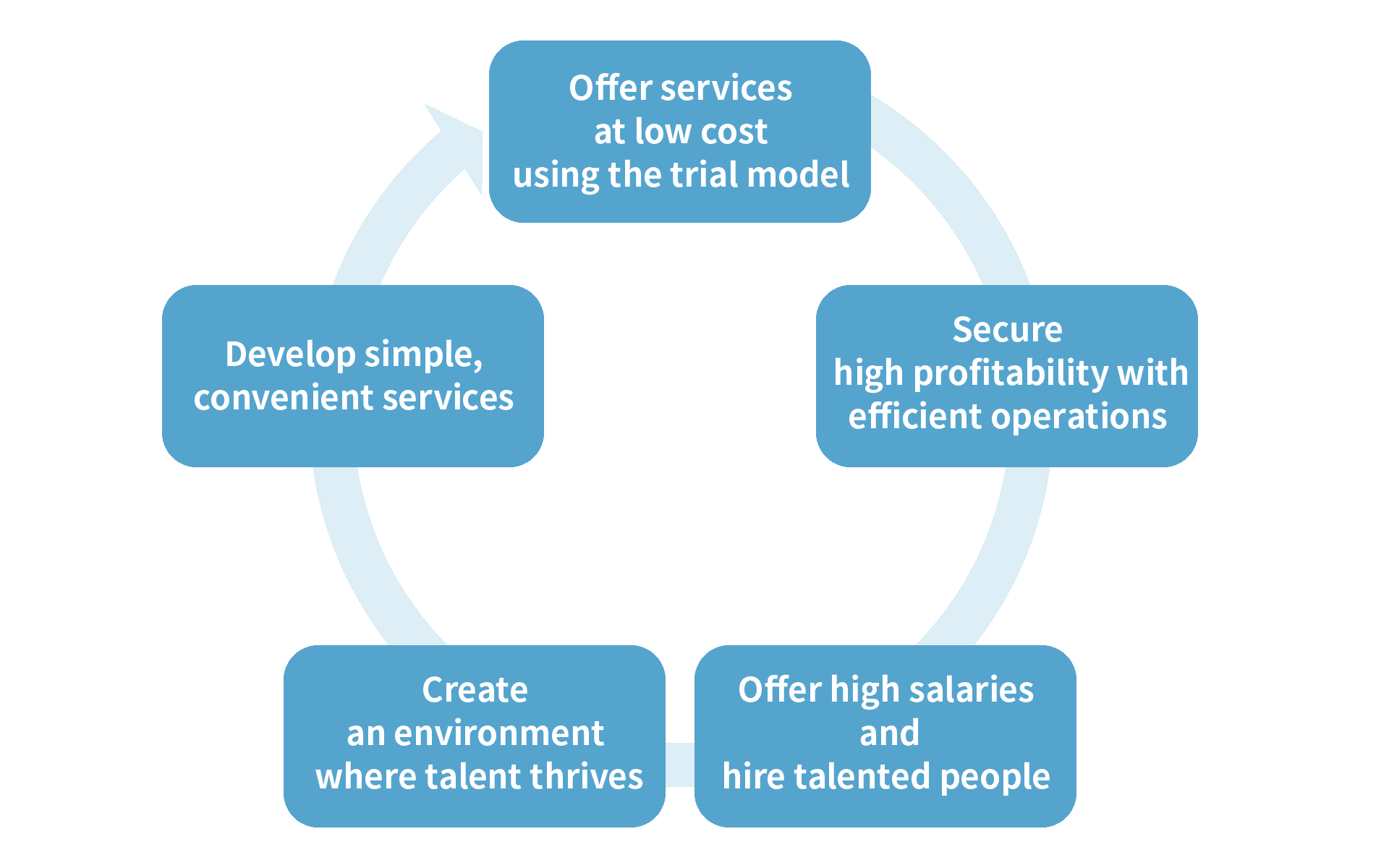 The mission of realizing the popularization of IT cannot be achieved without encouraging not only those who use IT, but also those who have never used it, to do so. To achieve this mission, we have developed services that offer ease of operation for all users, along with simple functions narrowed down to bare essentials, which we are providing at an affordable price. Our services are available to try free of charge for 30 days before entering into a contract. During this short period, we strive to ensure that users become familiar with how the service works, and experience operational improvements through the service operations and settings.

We believe that in order for a low-cost service provider to ensure high profitability, it must continue to develop new services and win new contracts, while keeping costs low and growing continuously as a company. Typically, as the number of services and contracts increase, sales and support costs increase proportionally, which makes it difficult for a low-cost service provider to ensure high profitability. This is why we are focusing on working efficiently, and keeping our per-contract acquisition costs low. We do not send out sales personnel to visit prospective clients and propose services for them: Instead, we employ inside sales via e-mail and telephone, and use marketing automation tools to automate some parts of the process. This waste-free operational approach is how we ensure high profitability.
Talented people are essential to maintain efficiency and continue to ensure high profitability in an ever-changing environment. To encourage talented people to choose our company over the competition, we are focused on affording individual employees a high degree of freedom so that they can fulfill their potential, and paying them generous salaries commensurate with the results they produce. Building these elite corporate foundations, we aim to ensure high profitability through efficient operations, attract talented individuals, and pay generous salaries.
Expansion of Cloud Services in the Software Industry
Our company is engaged in the development and provision of "cloud services" in the "software industry." Software is what makes PCs, smartphones, and other computing devices—known as "hardware"—work. This includes basic software, called the "operating system," that drives the computer or smartphone and makes it convenient to use, and another kind of software called "applications," which are used to perform specific tasks. Our company is developing the kind of software known as "applications."

When a user purchases hardware such as servers and PCs, installs software on that hardware, and operates and manages the hardware and the data on it in-house, the system is known as "on-premises." Such services are operated by the user and characterized by a high degree of freedom for customization. Conversely, the "cloud services" that we develop and provide can be employed by users who have only a minimal environment, such as a PC and the Internet. Relative to on-premises systems, customization is limited, but all users have to do is download the cloud-based software, and they are able use it from any location or time zone, without having to operate and manage the hardware or software.

In the data below, "on-premises" is classified as "package," and "cloud services" as "SaaS" (software as a service). While the market size of both types of service is on an expanding trend, the size of the SaaS market is expected to grow more significantly in the future because the management costs for users are lower compared to on-premises services.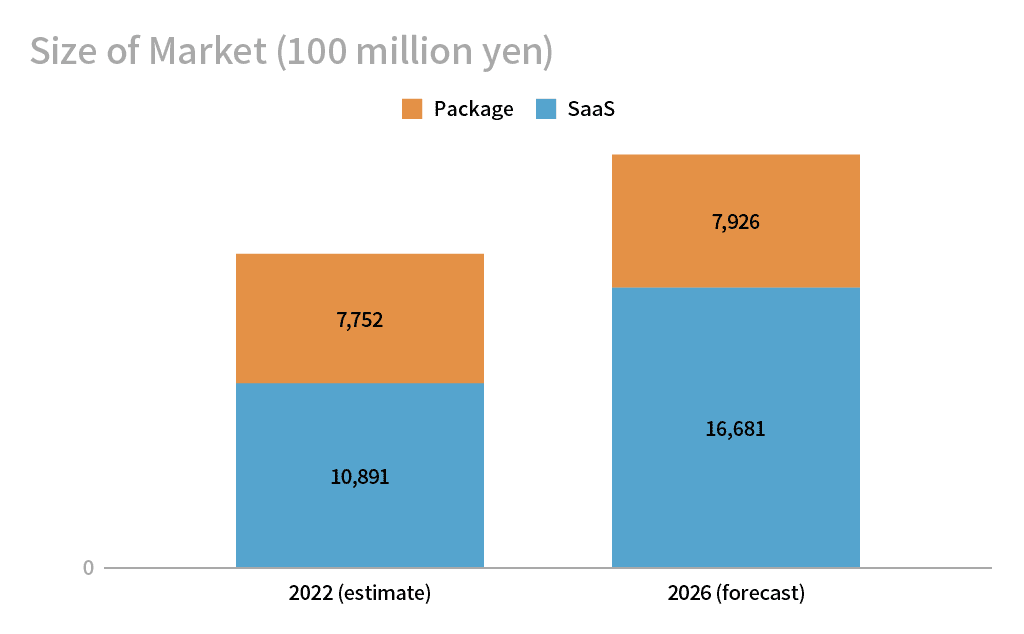 Source: Compiled from Fuji Chimera Research Institute, "Software Business New Market 2022 Edition"
The Subscription Model and Recurring Revenue
Our company has two main revenue sources: usage fees that arise monthly from the use of our services, and one-time charges that arise when a customer introduces one of our services. However, more than 99% of our revenue comes from the former: monthly usage fees. Our services are provided under either a monthly or annual contract, but users are charged a fixed monthly fee, rather than a variable fee based on usage volume and other factors. Since our revenue comes from these fixed monthly usage fees, there is little variation in revenue due to seasonal factors and so forth. We can also achieve stable growth in sales by acquiring new users, upselling and cross-selling to existing customers,* and reducing customer cancellations.
Models like this, whereby users agree to the terms of service and are granted access to the service for a certain period, rather than purchasing it, are called "subscription" models. Moreover, the kind of business model in which monthly usage fees are accumulated is called a "recurring revenue" model.

Upselling: Encouraging users to upgrade to a higher-end service than the one they are currently using
Cross-selling: Encouraging users to sign up for another service in addition to the one they are currently using

Conversely, the kind of business model used by restaurants and department stores, where sales are recorded each time a product is sold, is called the "one-time-fee" model.
Change in Sales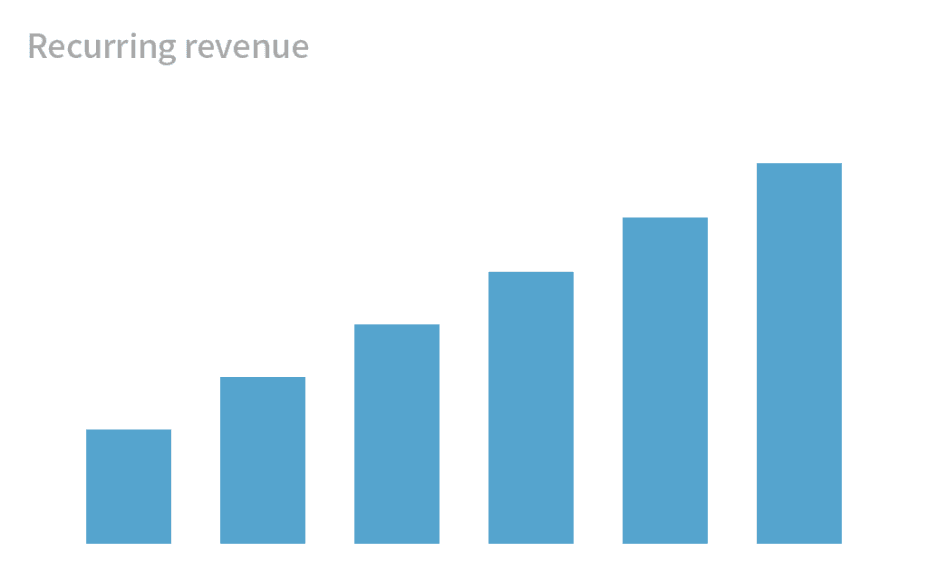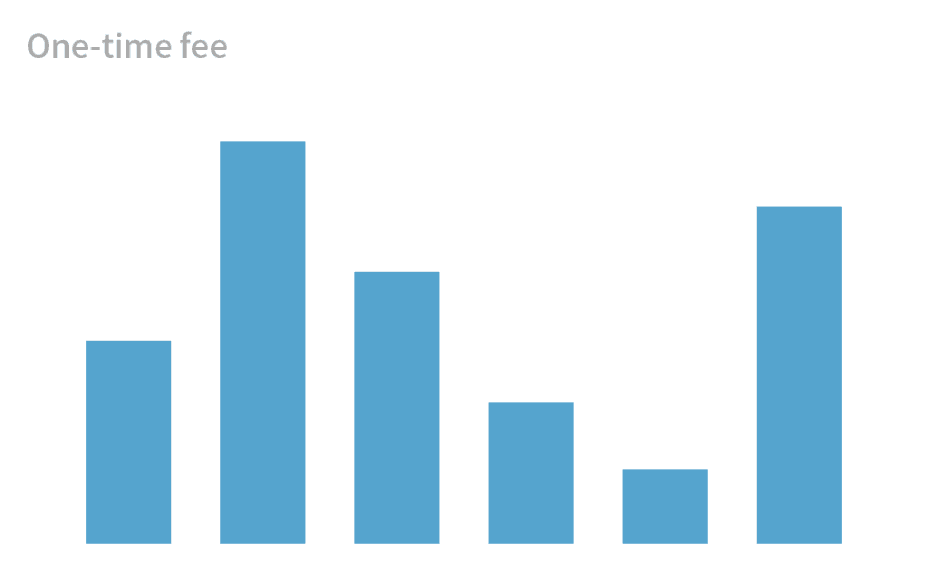 About Our Services
1. Safety Confirmation Service II
Safety Confirmation Service II is a safety confirmation system that we developed for companies operating in Japan. In the event of a disaster within Japan, automatic safety confirmation notifications are sent to cell phones, smartphones, and PCs to help organizations accurately assess any damage, confirm that their employees and their families are safe, and communicate with suppliers. Besides ease of operation and simple functions, we differentiate our services in the following ways:

Systems that secure resistance to disasters in Japan mainly through the use servers located overseas
Availability and affordability realized by automatically increasing or decreasing the number of cloud servers to match the load
Implementation of simultaneous nationwide drills each year to confirm that systems can still operate when the access load is heavy, such as during a disaster
Ability to support both open and closed communications depending on the purpose of use

We are also strengthening our integration with HR management systems provided by other companies, linking up with cybozu.com provided by Cybozu, Inc., SmartHR provided by SmartHR, Inc., HR freee HRM provided by freee K.K. and MoneyForward IT Management Cloud provided by Moneyforward i, Inc.

Please see the service page for more information on Safety Confirmation Service II.
2. Kintone-Linked Services
Our Kintone-linked services are cloud services designed to facilitate more convenient use of Kintone, a cloud service provided by Cybozu, Inc. Kintone is a service that lets users develop business systems called "apps" to improve their business operations, without the need for programming skills.

We offer six Kintone-linked services designed for different purposes, including creation of ledger sheets and web forms, which also enable involvement of external partners.


Creation of ledger sheets


While each of our services enable users to use Kintone in a convenient way, by introducing multiple services users are able to use Kintone like a web system, with no-code or low-code tools. As well as upgrading the functionality of each service, we are also enhancing the functions that link multiple services.

Please see the service page for more information on our Kintone-linked services.
3. Toyokumo Scheduler
Schedulers first evolved from individual schedule management into group schedulers that manage departmental and company-wide schedules, and then into groupware that can also be used for reservations for company facilities and to-do list management. In addition to these groupware functions, our Toyokumo Scheduler introduces a new concept whereby schedules can be coordinated with partners outside the company.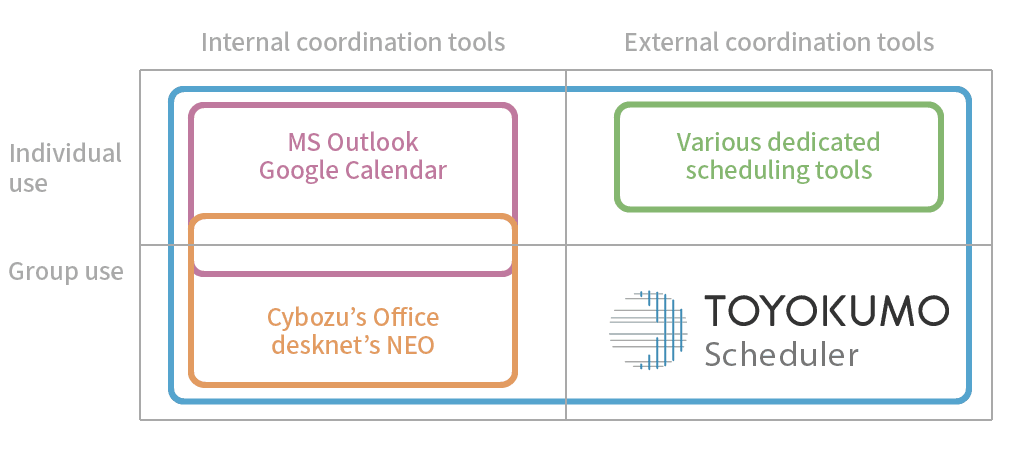 Key Performance Indicators (KPIs)
Monthly Sales
We believe that our monthly sales figures are a good indicator of our growth as a company. Since we have adopted a recurring revenue, subscription model, we are able to achieve stable growth in sales by acquiring new users, upselling and cross-selling to existing customers, and reducing customer cancellations. Monthly sales data can be found in our Monthly Sales Report.
MRR & ARR
MRR stands for "monthly recurring revenue." It is a measure of revenue generated on an ongoing monthly basis, which excludes one-time fees, such as initial setup fees and charges that vary depending on usage. Our company has two main forms of revenue: usage fees that arise monthly from the use of our services, and one-time charges that arise when a customer introduces one of our services. The monthly sales figure is the sum of all usage fees and charges, while MRR is the total amount of the former only. ARR stands for "annual recurring revenue" and can be calculated by multiplying MRR by twelve.
Churn Rate (Cancellation Rate)
As mentioned in the Monthly Sales section, to grow sales it is important to acquire new customers, upsell and cross-sell to existing customers, and reduce customer cancellations. In order to retain our customers longer, we are upgrading our services and enhancing our start-up guides and help pages, while responding to telephone and e-mail inquiries. The churn rate, which we currently disclose, is calculated from the averages of the value of contracts and value of cancellations over a 12-month period. Please see our financial results briefing materials on our IR Library page for more information.
Number of Paid Contracts
We believe that increasing the number of paid contracts is important, since monthly sales growth depends largely on acquisition of new users and cross-selling to existing customers. We therefore disclose the number of contracts for our safety confirmation service and Kintone-linked services (including Toyokumo Scheduler) in our financial results briefing materials. In addition, the number of contracts and average unit prices at the end of each fiscal year are disclosed for reference in our Financial Highlights.
Earning Power (Advertising Expenses + Operating Profit)
We calculate our earning power by adding advertising expenses and operating income. We intend to continue investing in advertising as part of our mid- to long-term branding strategy. At the same time, we believe it is important as a company to generate profits and return them to shareholders, and to secure internal reserves to ensure financial soundness. Currently, we determine how much to invest in advertising while considering the balance with operating income. With this in mind, we disclose the total amount for advertising expenses and operating income as our earning power. Please see our financial results briefing materials on our IR Library page for more information.
LTV
LTV stands for "lifetime value." LTV is a measure of how much revenue a customer can bring to the company after entering into a contract through to termination of the contract. In our case, once a customer enters into a contract with us, they continue to pay a fixed monthly fee until the contract is terminated. Therefore, the longer the relationship with the customer lasts, the more the customer pays (and the more we earn). In other words, the lower the churn rate, the higher the LTV per contract. We calculate LTV by dividing MRR by the average annual churn rate. LTV is an important indicator along with monthly sales and churn rate, since LTV increases as sales increase and the churn rate falls. Please see our financial results briefing materials on our IR Library page for more information.